At Flexaust, we are a supplier of durable and reliable hose for industrial and commercial applications. Our hose offerings include polyvinyl chloride (PVC) hoses, thermoplastic rubber (TPR) hoses, and polyurethane (PU) hoses, all of which demonstrate different temperature range, abrasion resistance, and wall thickness requirements that make them a good, better, and best fit for different applications. In the following article, we discuss these three hose options and the applications for which they are best suited.
How to Choose the Right Hose Material
When selecting a hose material for a particular application, it is important to consider its performance in the short-term and long-term. For example, the ideal material should accommodate the environmental and operating conditions (e.g. heat, extreme cold, etc.) now and in the future. Below we outline how PVC, TPR, and PU measure up in these capacities.
PVC Hose: The Good Option
PVC hoses are an economical option for general-purpose applications. They are typically used in ventilation, woodworking, and other operations that do not involve exposure to extreme temperatures, chemicals, UV radiation, or abrasive materials.
Thermoplastic Rubber (TPR) Hose: The Better Option
Compared to PVC hoses, TPR hoses offer greater abrasion resistance and smoother interior assuring minimal friction loss and efficient airflow. They are suitable for use in applications that involve low or high temperatures, chemicals, moisture, and outdoor use (UV exposure).
Polyurethane (PU) Hose: The Best Option
Compared to PVC and TPR hoses, PU hoses serve as a superior solution for a wide range of industrial and commercial applications. In addition to being the most versatile hose because of its manufacturing capabilities–Flexaust has the ability to manufacture five wall thickness and static dissipative hose versions–PU hoses have great abrasion and chemical resistance, higher tear strength, better vacuum and pressure ratings, and good flexibility in low temperatures.
Common Applications of the PVC, TPR, and PU Hoses at Flexaust
Our hoses are suitable for many industrial and commercial applications. Below we outline some of the operations in which our hoses are regularly utilized for and which PVC, TPR, and PU hoses are viable options.
Woodworking
For woodworking applications, we recommend the following hoses: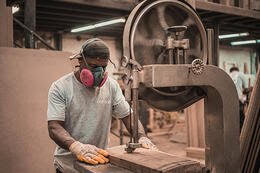 Compared to R-4 and T-7, Flx-Thane MD offers good compressibility and superior abrasion resistance to handle anything from dust collection to larger more abrasive woodchips. The clear version is manufactured with FDA acceptable materials and is easy to detect any blockages in the hose while in service. Flx-Thane MD is also available in metric sizes, so it is compatible with European equipment.
Plastic Manufacturing (Blown Film Manufacturing)
For plastic manufacturing applications, we recommend the following hoses:
While CWGP (made from double-ply neoprene coated polyester fabric) and T-7 (made from thermoplastic rubber) offer good performance in these operations, T-7SR provides even better performance and a higher temperature range which can be critical in this application depending on equipment used.
These thermoplastic rubber-coated woven polyester fabric hoses are reinforced with a spring steel wire helix offering better tensile strength and puncture resistance than traditional reinforced woven neoprene and TPR hoses. T-7SR demonstrates superior chemical, moisture, temperature, and UV resistance, as well as suitability for demanding positive and negative pressure environments.
Street Sweeping
For street sweeping applications, we recommend the following hoses:
While street sweeping equipment can operate with HT or Flx-Thane MD, Flx-Thane HD is ideal. The .045" wall thickness is heavier than HT and Flx-Thane MD making it a great choice for severe service applications like street sweeping. It has better puncture resistance and excellent flexibility, all of which are important in applications involving constant movement.
Leaf Collection
For leaf collection applications, we recommend the following hoses: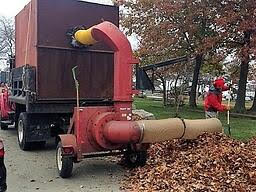 LCDC and HT-W are good options for leaf collection equipment. LCDC is a medium weight economical truck loader vacuum hose offering a long flex life, while HT-W has a heavier wall thickness and great moisture and UV resistance – also ideal for commercial landscaping. However, Flx-Thane HD is even better. It offers superior abrasion resistance, tear strength, and great moisture and UV resistance making it the best option.
Confined Space Ventilation
For confined space ventilation applications, we recommend the following hoses:
FX-400 is the superior solution here. It handles a wider temperature range which is critical when used for commercial and residential work area heating, cement drying, and event tents. The high strength sewn construction of FX-400 allows for better performance in low and high temperatures.